Mission:Cake Impossible
Mission: Cake Impossible

Our story begins 14 years ago with a mom (me), a dad, and a 10 month old boy. His birthday was fast approaching and I had only two months to plan a big birthday party bash! I wanted it to be big because he was the first grandchild on my husband's side of the family and plus I love to plan parties!

"It has to be huge", I thought to myself. "After all, it is his FIRST birthday!"

Let the planning commence! So after extensive research and planning, the party was coming together.

Design theme- Baseball. Check!
Personalized Invitations (designed by my husband the computer guru) and professional printing (only the best-right?). Check!
Buy party decorations. Check!
Cake……cake……let's see…….what do I do? Hmmmm…….."I CAN do this!" I convinced myself!

Off I went to the store for the ingredients: boxed cake mix, eggs, oil, icing and food coloring. Everything I needed, right?
The night before the party I started to make the cakes. I had planned to bake two, one for the guests and one for the baby to eat, AKA the Smash Cake. The problem with this part was that my ancient gas oven in our little cabin in the big woods did not bake evenly. A replacement oven was required. Not a whole lot of options when you live in the country. A phone call was made and I quickly jogged to my closest friend and neighbor with my batter and it was soon in her oven. With a sigh of relief, the two cakes were baked. After all, it does take a village.

Party day had finally arrived! My husband had the fun job of watching our son, trying to clean what was left of the house, get the outside ready for our guests and to prepare his favorite place to be-in front of the GRILL! In the meantime, it was time for me to start decorating the cakes.

With my heart going pitter patter, my body temperature rising, and doubt filling my head, my determination to succeed at decorating my first cake was filling my heart. Just jump right in, right? But before the creativity could commence, I needed to make a stop at the toy box. I almost forgot to get a bat and a baseball- the models for the most amazing cake ever! I retrieved the models and placed them by the un-iced cakes. I cut the larger cake first into the shape of a dome for the baseball.




Kind of small I thought, but it would have to do. On to the next cake. I cut it in the shape of a small baseball bat.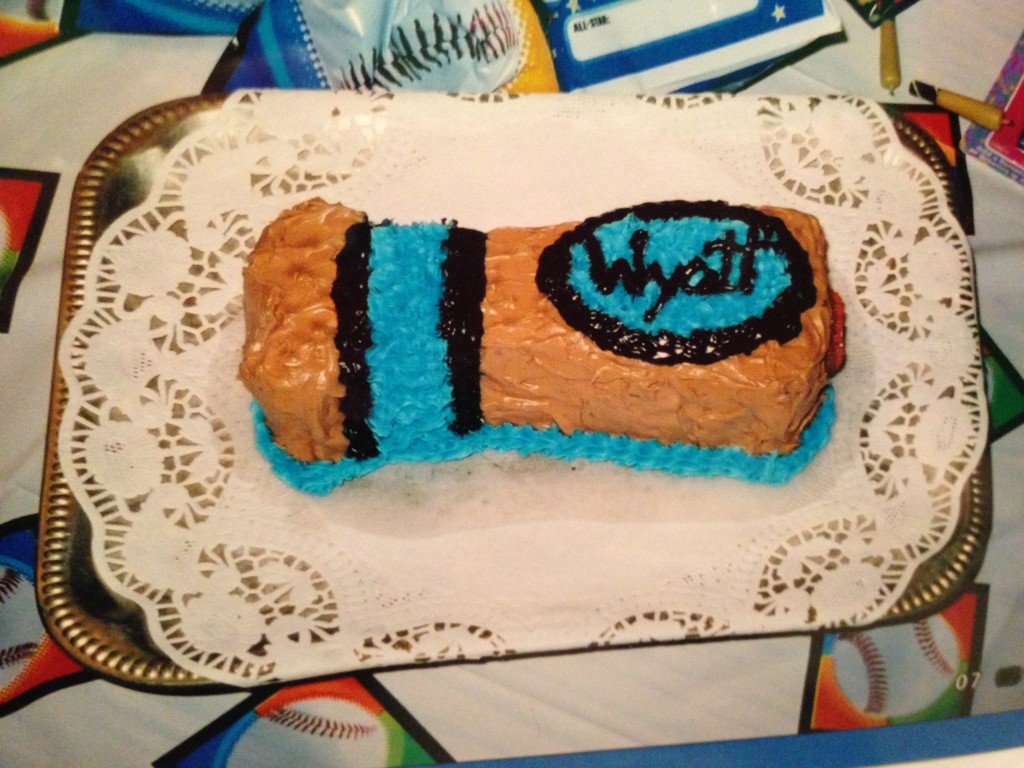 "Is that a baseball bat or a lopsided bowtie?" I thought out loud! "Keep on going", I told myself. "It will look better once the icing is on."

Shaping….done.

Next was the really nerve wracking part! I was about to apply the icing and create my first masterpiece. I had all that I needed to achieve my goal, having inherited my mother's set of decorating tools after her youngest left home. Everything except the skills, that is. My mind is a wonderful thing, but I realized that in this situation it had very high standards. As I began icing and decorating the two cakes, my hands and my mind were not working together on this deal. Due to lack of time, my hands won and my mind lost. I had to go with what my hands had produced.

Not impressive!

What did I expect? I made this cake myself and it was my FIRST one…..ever! So even though it didn't look like the picture in my mind, surely it would be fabulous tasting. Wrong again! Ugh! Was I expecting too much from myself?

The birthday party took place as planned, despite how awful the cake was. Overall, the party was a success. The weather was beautiful for the middle of July. The whole family came to celebrate and my son received a ton of presents. I'm sure no one remembers the cake, except from the documentation of the disaster - PICTURES!
So not wanting to repeat that CAKE FAIL again, I made it my mission to make a cake that looked good, but more importantly………..TASTED FANTASTIC!!!

After many months (14 years to be exact) of researching and making cakes (we have 5 children now and I have had several opportunities to perfect cake making and decorating), I have found a few tips that can make a huge difference in the taste and moistness of your cakes. I hope they can help you!

Happy Baking!


10 Tips on Making the Moistest Cake Ever

If possible, cook the cake at least one day before the cake is going to be decorated!

Use your favorite cake mix. (I use either Duncan Hines, Pillsbury or make mine from scratch, if I have time)
Make or buy icing (I like to make buttercream icing, but that recipe is another blog post)
Prepare cake mix as directed, EXCEPT do not use oil! Replace oil with ONE small carton of plain or vanilla yogurt. I have even used flavored yogurt like strawberry. You can use full fat, low fat or fat free yogurt.
If using a white cake mix, I like to add almond extract into the mix.
Bake cake mix as directed. Watch carefully not to over bake!
Take out of the oven and let cool for about 10 minutes.
Place a piece of waxed paper/parchment paper over baked cake and then place a baking sheet over the cake pan.
Turn cake over to transfer it from cake pan to baking sheet, making sure the waxed paper/parchment paper is now between the bottom of the cake and the baking sheet.
Do not cover cake and place in freezer, either kitchen freezer or if you have a deep freezer. Freeze overnight.
At least 4 hours before the cake will be served, take out of the freezer and begin decorating! The cake will stick to the waxed paper/parchment paper and will be easy to remove from the baking sheet and transfer to a cake board for shaping and decorating.